Paul (Bam Bam) is the newest addition to the Jamboozle experience.
Born in Germany and hailing from East Tawas Michigan, Bam completes the powerhouse foursome.
Influenced and inspired by Peter Criss, Eric Singer, John Bonham, Alex Van Halen, Tommy Aldrich, Tommy Lee, Vinnie Appice, Randy Castillo, Jason Bittner, Vinnie Paul, Nick menea, Lars Ulrich, Kenny Arnoff, Mike Wengren, Shannon Larkin, Joey Jorison, Danny Carey, Nico McBrain and David Silveria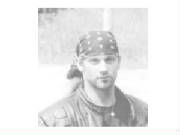 Bam bangs on Yamaha Absolute Birch Customs, Ludwig Classic Pro, Tama snares, Gretsch. D.W. - Gibralter Hardware. Sabian , Wunan and Zildjan cymbals. For electronics, AKG, Shure and Audix Mics. And he beats them all with Regal Tip, Quantam 1000, Promark Rock Knocker, Carter Beauford and Vic Firth American Classic Rock sticks.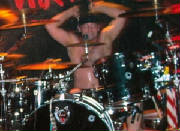 Bam's past accomplishments include Tantrum, Marquee, Medicine Wheel, Darkside, Wolfpack, Bad Habitz, No Warning and Group Therapy.
Bam appreciates team effort, truth and craziness and likes to avoid control freaks and brain dead people.